In Nainital, (more than) 50 shades of green surround you, and a cold mist sweeps you off your feet. To have a great time in Nainital, you must stay at a great place too. Nainital's charm will fall short if, at the end of the day, you don't get to come back to a comfortable hotel. To make things easier for you, we have listed the 3 best hotels in Nainital for your budget.
STAY WITH THE VIEW OF THE LAKE AT HOTEL SHIVRAJ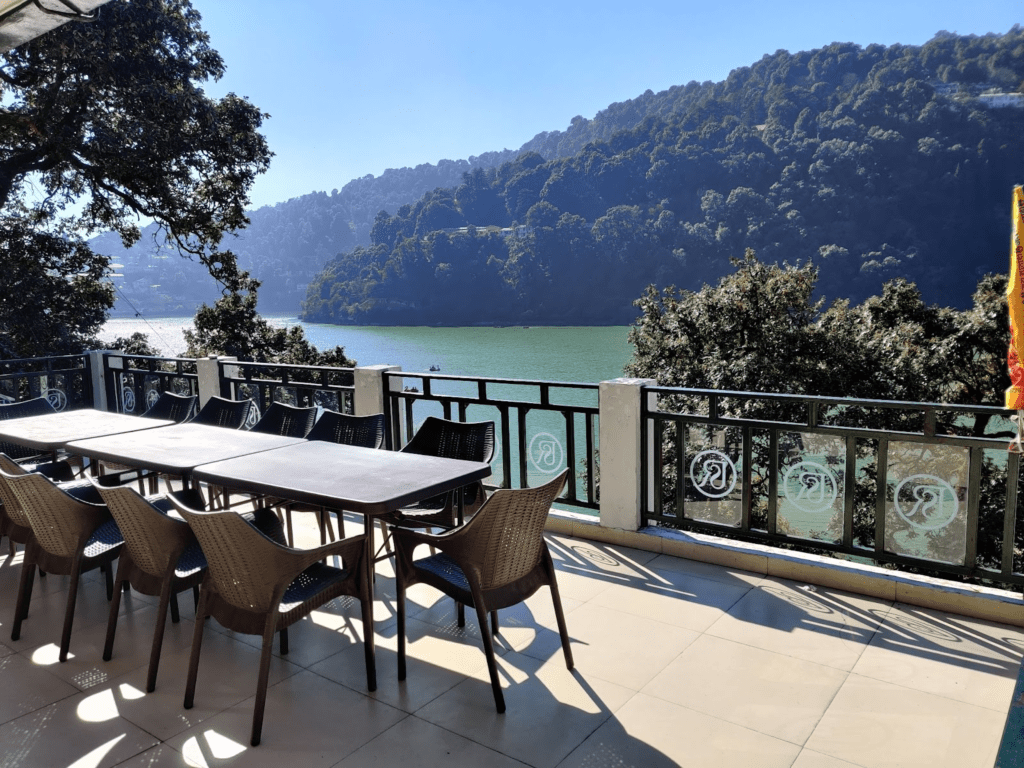 Image Courtesy: ShivrajStays.com
Hotel Shivraj's location is perfect. It is located right on Mall Road. Staying there means waking up to the beautiful Naini Lake every day. It is close to most tourist attractions in Nainital. For instance, it is just 3.4 km away from Tiffin Top and 1.2 km away from Nainital's famous high-altitude zoo. Hence, the location is the most important but certainly not the only attraction of the hotel.
As a reputed hotel, they are equipped with all the basic facilities you would expect at a hotel. Apart from that, they also have a dedicated kids' play area. Thus, it is the perfect hotel to visit with your family members.
Since it is just in front of the picturesque Naini Lake, they have photographers on demand. You can book someone and take a very quick walk to the lake for a photo session. The concierge would also be able to help you book boat rides to the lake. As it is on Mall Road, there is every possible facility available nearby.
Even after its prestigious location, the hotel's price is often reasonable. It is indeed a luxury on a budget. BOOK NOW to get the best deal!
SURROUND YOURSELF WITH LUSH GREEN HILLS AT LA NIWASA BY SHIVRAJ
Image Courtesy: ShivrajStays.com
La Niwasa by Shivraj is located just 0.8 km away from Nainital's popular tourist destination, Eco Cove Garden. Other tourist attractions like Naini Lake, Naina Devi Temple, and Tiffin Top are no more than 3.5 km away. Since it is close to popular bus stations, you can access all destinations in Nainital fairly easily.
In terms of the view, the hotel is surrounded by Nainital's beautiful hills. Thus, the mountain-view rooms are a hit. There is nothing more calming than waking up to a view of the hills.
They are certainly equipped with all the basic facilities to ensure that you have a comfortable stay at the hotel. These include doctors on call, conference rooms, laundry services, etc. Apart from that, they also have a sit-out area. You can sit around in front of the mountain view and have a peaceful time with your friends and family. Their in-house restaurant serves delectable food. For a cozy night in, you can make use of their efficient room service. Most of their rooms also have a balcony. They just add to the charm of the room. Especially with the calming view.
If the view and the facilities at La Niwasa fascinate you, BOOK NOW!
EXPERIENCE LUXURY IN NAINITAL AT A SWISS HOTEL
Image Courtesy: TripAdvisor
Swiss Hotel is located in Sherwani. It is situated at a convenient distance from most tourist places in Nainital. For instance, Eco Cove Garden is just 800 meters away. Naina Devi Temple, Tiffin Top, Snow View Point, etc. are just about 3kms away. Thus, if you want a hotel that will save you commute time while you explore Nainital, the Swiss Hotel could be the solution.
Swiss Hotel is a 4-star hotel. Thus, needless to say, it is equipped with many facilities. Their rooms are well-lit and well-furnished. Also, they contain all the modern amenities you could need to have a comfortable stay. They provide pickup and drop service from airport and railway stations as well. This will save you the hassle of looking for transportation when you arrive in Nainital.
Their concierge can help you book tours, treks, and jungle safaris as well. Since Nainital is a natural haven, treks and safaris are the best way to explore it.
Their outdoor seating area, combined with their amazing food is the perfect setting to spend some quiet and peaceful time in the beautiful Nainital.
If you are looking for a luxurious and modern stay, BOOK THE SWISS HOTEL NOW!
Read More: 5 Street Food Items You Must Try On Nainital's Mall Road
Are you looking for accommodation for your stay in Nainital? Check out properties by Shivraj Group of Hotels. The destinations in this itinerary are easily accessible through their properties. Hence, you will be able to stay in prime locations, without tampering with your budget too much. You will be assured of comfort, safety, and good food. Book now!
Let's Suggest You Some Best Luxury & Comfy Hotel To Stay In Nainital
⭐⭐⭐⭐⭐
Peaks And Pines Resort & Hotel