Sunsets in Nainital, a popular hill station in India, are truly an amazing experience. The town is situated around a picturesque lake, and as the sun sets, the sky transforms into a canvas of vibrant orange, pink, and purple hues. The reflection of the colors on the calm waters of the lake adds to the beauty of the scene. The setting sun also casts a golden glow on the surrounding hills, creating a truly mesmerizing sight.
Visitors to Nainital can enjoy the sunset from various viewpoints such as Naini Lake, Naina Peak, and Tiffin Top. It is a must-see for anyone visiting the town, and that will certainly be etched in the memory forever. In this blog, we explore the list of places in Nainital that provide you with this memorable experience.
Image Courtesy; Travel Triangle
Naini Lake
Your trip to Nainital will feel complete with visiting and taking a boating ride on the gorgeous Naini Lake. It offers a perfect space for your next picture album and a mesmerizing view of the sunset. You can enjoy the boat ride with your family or even a romantic evening with your loved ones.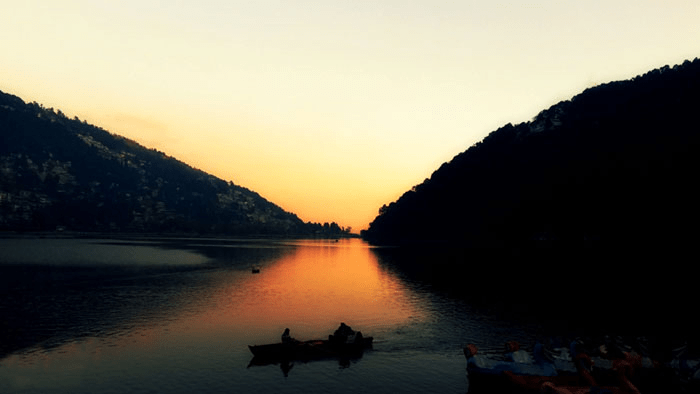 Image Courtesy : naturelovers[dot]co[dot]in
Snow View Point
Snow View Point is breathtaking not just for its snow but for the enchanting view of the sunset. It's the perfect spot to enjoy the Himalayas and the scenery of Nanda Devi, Trishul, and Nanda Kot. So, do you want to make your trip a thousand times better? A visit to Snow View Point is just what you need!
Tiffin Top
Tiffin Top, one of the most fun picnic spots in Nainital, is yet another wonderful destination to witness a sunset. You can spend some quality time with your family and loved ones while enjoying the surroundings. And who minds getting a few pretty clicks as well?
Naina Peak
The highest peak of Nainital, Naina Peak is an excellent spot for witnessing a beautiful sunset. It's the peace you need away from the busy city life with a stunning snow view.
Image Courtesy : indiathrills[dot]com
Nainital Ropeway
Last, but not least, the Nainital Ropeway can be a perfect way to experience the sunset as it hovers over the entire city. This adventurous ride will give you an exceptional view to cherish forever.
The list here ends but not what Nainital's Sky has to offer. A trip to this lush green and peaceful town is everything you need for your next vacation. And the breathtaking sunsets are just the cherry on top.
Image Courtesy : thetarzanway[dot]com
While you plan the trip, Shivraj Group of Hotels will ensure your stay is as comfortable as possible. Book today!
Read More: What To Do In Nainital? 7 Famous Treks Near Nainital
Are you looking for accommodation for your stay in Nainital? Check out properties by Shivraj Group of Hotels. The destinations in this itinerary are easily accessible through their properties. Hence, you will be able to stay in prime locations, without tampering with your budget too much. You will be assured of comfort, safety, and good food. Book now!
Let's Suggest You Some Best Luxury & Comfy Hotel To Stay In Nainital
⭐⭐⭐⭐⭐
Peaks And Pines Resort & Hotel