Looking forward to a serene and adventurous trip to Nainital with your friends? Here are some enjoyable activities in Nainital for you and your friends:
DRINK AND DINE WITH YOUR FRIENDS AT THE BOAT HOUSE CLUB
The historical Boat House Club is the perfect place for a night out on Nainital. It is immersed in the scenic views of Nainital Lake. If your friends enjoy talking about life over a glass of whiskey and the sound of waves, it is the perfect place. The food is delicious, the ambiance is beautiful. If you want to go yachting with your friends, Boat House Club has that facility too. However, you need to know how to sail a yacht for that. 
Image Courtesy: Abhijit Kumar, Curly Tales
CATCH THE SUNRISE AT TIFFIN TOP
If you're tired of watching Netflix with your friends, watch the sunrise with them for a change. Tiffin Top is just a 4km hike from Nainital Mall Road. Tiffin Top sits 2292 meters above sea level. The altitude and the surrounding beauty make up for a scene from a Karan Johar movie. If you're visiting between March and September, the weather is extremely pleasant. In addition, the sun looks stunning, emerging from the distant mountains. It will surely be a fun activity for your friends. Not to mention, the photographs from your trip will turn out beautiful.
Image Courtesy: Mahesh Suntha, YouTube
GET CLOSER TO NATURE (AND EACH OTHER) ON A CAMPING NIGHT
Nainital is perfect to escape the fast-paced life of a busy city. Consider camping with your friends for a night, if you want to take your natural retreat a step further. Nainital offers a lot of camping sites. Additionally, a lot of them will cut down costs if you book the site for a group. So, the only step is to pick a site that matches your budget and interests. There is no better bonding activity than sitting around a bonfire and talking.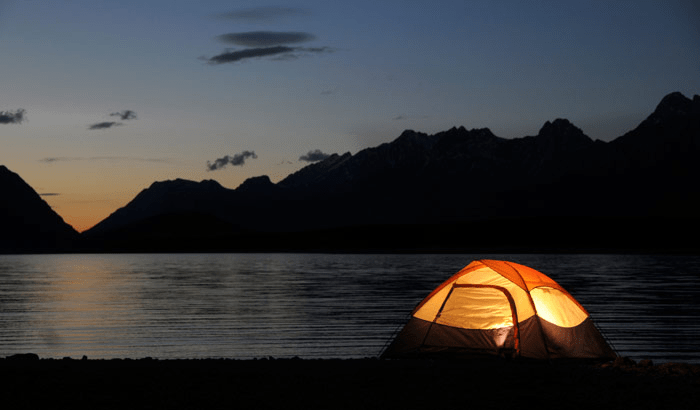 Image Courtesy: MakeMyTrip
GO WILD WITH ADVENTURE SPORTS
If you and your friends are looking for an adrenaline rush, Nainital has a lot of adventure sports options for you. Since Nainital is so beautiful, Paragliding and Parasailing are the two most popular sports. Sports' can give you a bird's eye view of the scenery around you. However, if you have friends who are looking for something less intimidating, Water Zorbing is a great option. You can visit Bhimtal Lake for this fun yet memorable activity. Indeed the scenic hills in Nainital are perfect for trekking. If you are into bike riding, then you can even ride a bike while you enjoy the beauty of Nainital.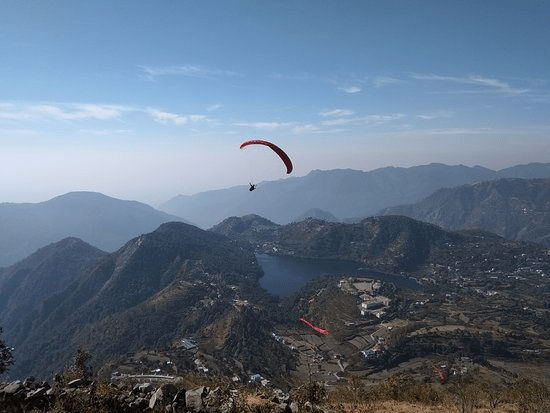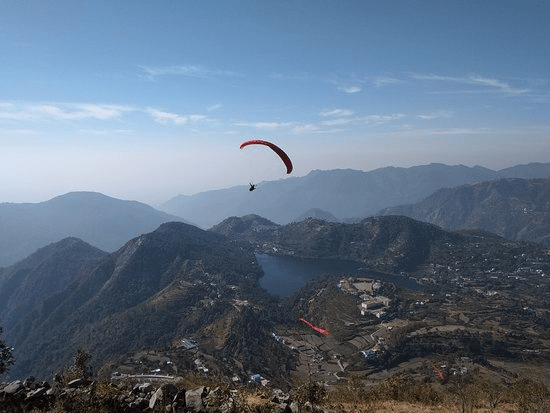 Image Courtesy: Tripadvisor
STREET SHOP IN NAINITAL'S LOCAL MARKET
You will find plenty of street markets and small vendors in Nainital. They in fact add to the cultural beauty of Nainital. If you want to take back shawls or garments as souvenirs, visit Mall Road or Tibetan Market. Bara Bazar is the perfect destination if you're looking for decorative items or fruits/ jams etc. Also, it is always great to support local vendors.
Image Courtesy: Treebo
Read More: 7 Travel Hack Ideas For Your Next Trip To Nainital
TO MAKE YOUR TRIP WITH YOUR FRIENDS MORE MEMORABLE, BOOK A COMFORTABLE STAY
If you want to enjoy the trip, it is important to make sure that you're staying at a fun, comfortable, and safe place. Shivraj Stays Properties can offer just that. La Niwasa Luxury Resort, Swiss Hotel Nainital, or Hotel Shivraj can become your perfect host. Here, you can get everything from drinks and food to a beautiful ambiance to enjoy with your friends. Additionally, a long day of exploring the city calls for restful and luxurious sleep. Hence, Shivraj Stays will offer you that, and more. Book your stay now!
Image Courtesy: ShivrajStays.com
Read More: 7 Must-Visit Peaks Of Nainital
Are you looking for accommodation for your stay in Nainital? Check out properties by Shivraj Group of Hotels. The destinations in this itinerary are easily accessible through their properties. Hence, you will be able to stay in prime locations, without tampering with your budget too much. You will be assured of comfort, safety, and good food. Book now!
Let's Suggest You Some Best Luxury & Comfy Hotel To Stay In Nainital
⭐⭐⭐⭐⭐
Peaks And Pines Resort & Hotel