Are you living through the sweltering heat of the summer months? Or are you tired of keeping up with your fast-paced life? If the answer to either of these questions is yes, Nainital is calling you! This city is nestled between lush green and snow-white mountains. The temperatures in Nainital are pleasant even during Summer. So if you are planning to visit Nainital this summer, here is a 3-day itinerary just for you!
DAY 1
Start your day with a boat ride on Naini Lake
Image Courtesy: slyronit, Flickr
Mornings are the perfect time to visit Naini Lake when it is not too crowded. The Lake shimmers from the sunlight filtering through Nainital's greenery and make you feel at peace. You can go boating in the lake which will take you approximately 30-40 minutes. It is truly a serene experience you must tick off your list!
Take a stroll down Mall Road and enjoy a heartwarming lunch
Image Courtesy: beingdogra.com
Mall Road runs right along Naini Lake. You will surely work up an appetite after boating in the lake. Luckily, there are numerous food joints on Mall Road. On Mall Road, you can find roadside vendors selling boiled corn or chana chaat. Also, there are a lot of kiosks that sell popular street food items like Maggi, Bun Tikki, etc. If you want to sit in a nice ambiance, there are also a lot of cafes and restaurants on Mall Road. Hence, there is something for every person and every cuisine lover.
Go Shopping after lunch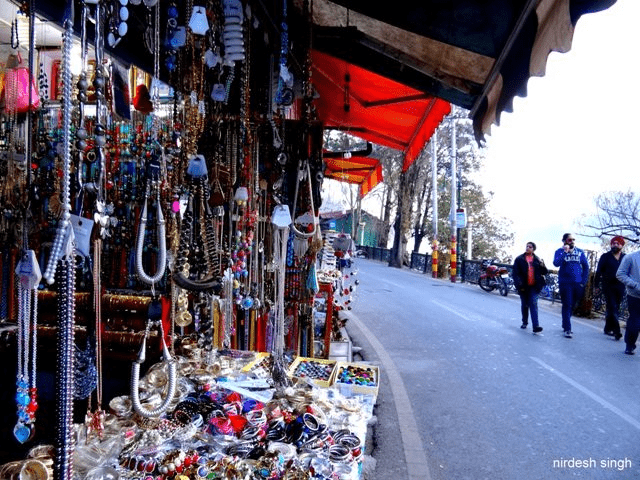 Image Courtesy: Nirdesh Singh, Inspiring Travel Experiences
Mall Road is also one of the best places to shop in Nainital. The most popular items here are souvenirs and handcrafted candles. The smell is a sense that is strongly associated with memory. Hence, every time you burn the candles you buy from Mall Road, you will be reminded of your trip to Nainital. There are also a lot of other stores with a variety of items for you to choose from. Nainital's pleasant temperature and Mall Road's view of the Naini Lake make just walking and casually shopping on Mall Road a great activity.
Take the Nainital Aerial Ropeway to Snow View Point
Image Courtesy: dreamstime.com
Around 3 pm is the perfect time to take the Nainital Aerial Ropeway and visit Snow View Point. You can board the cable cars in Mallital. Mallital is on the upper part of Mall Road. Hence, it is easily accessible. The ropeway in itself is one of the must-haves on your Nainital bucket list. The bird's view of Nainital and its surrounding areas is mesmerizing. The ropeway ends at Snow View Point. It is 2270 meters above sea level. Hence, the view is simply beautiful from there. You can see snow-capped mountains all around from there. They have a lot of entertaining activities for kids and adults alike. There is a small amusement park that you can enjoy. After spending some time there, you can take the ropeway back to Mallital at 5 pm.
Have a lakeside dinner
Image Courtesy: Tripadvisor.com
After taking some time to rest and recharge, you can enjoy a calming lakeside dinner. There are a lot of restaurant options near Naini Lake. For instance, there is Zooby's Kitchen, Boat House Club, and Cafe Lakeside. You can enjoy a wide variety of cuisines there. The view adds to the flavor of the already delicious food. Especially, if you are visiting Nainital with your friends and family, a cozy dinner is the perfect bonding activity. After dinner, you can comfortably relax at your hotel and prepare yourself for an adventure-filled day.
DAY 2
Go Kayaking in Bhimtal Lake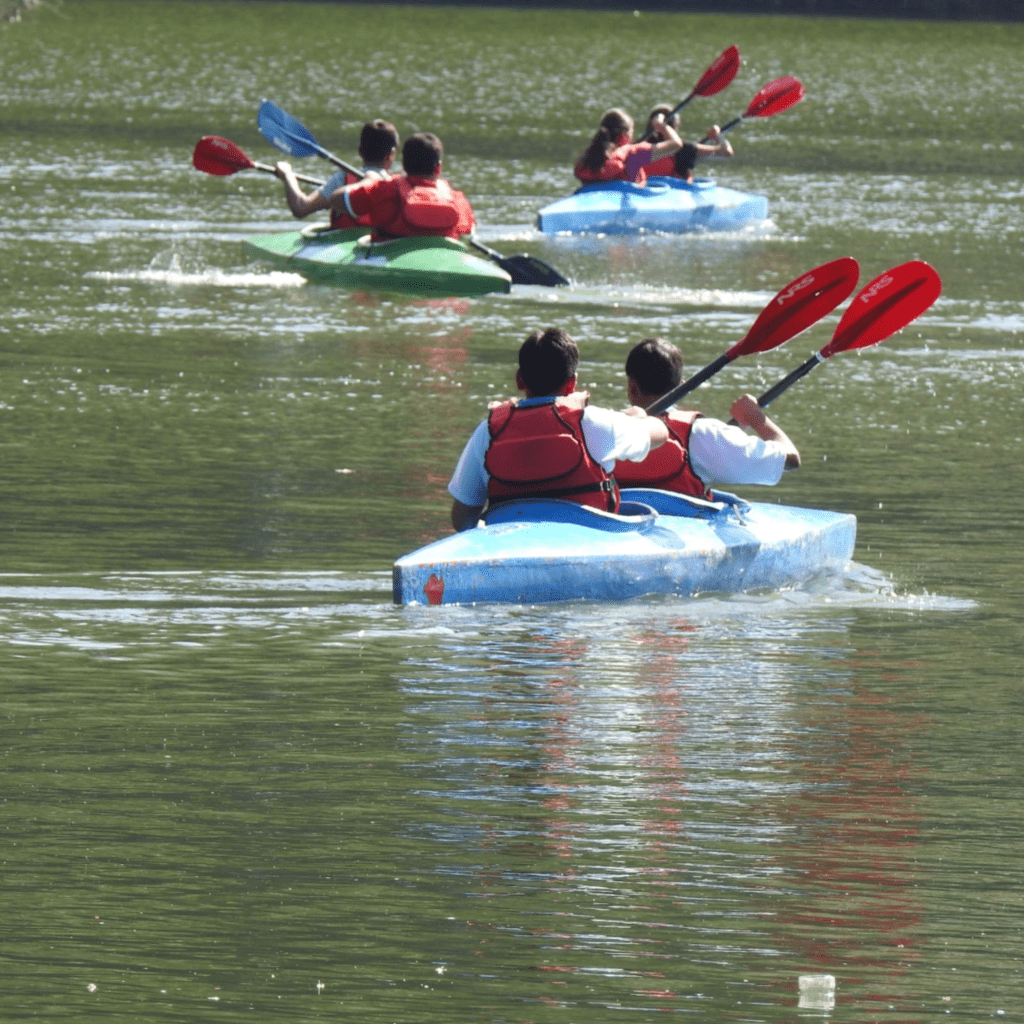 Image Courtesy: Wilfrift.com
Bhimtal is a quick 20 min drive from Nainital's Mall Road. Bhimtal's main attraction is Bhimtal Lake. It is considered to be the biggest lake in the Nainital district. There are plenty of activities around the lake including shopping and food joints. If you are in the mood for some adventure sports but want something less intense, then Kayaking is for you. The water flow of Bhimtal Lake is perfect for kayaking. It is an activity that you will enjoy!
Get blessings at Hanuman Garhi
Image Courtesy: Book Adventure Retreats, Facebook
After Kayaking and lunch, you can pay a visit to Hanuman Garhi in Bhimtal. It is a high-altitude Hanuman Temple. The serene atmosphere and beautiful views of the temple make it a popular destination amongst tourists.
Drive to Naukuchiatal to paraglide and enjoy Nainital's beauty
Image Courtesy: Tripadvisor. in
Naukutchiatal is just barely 15 minutes away from Bhimtal. Naukutchiatal also has a very popular lake that you can visit as well. They have a 9 cornered lake that is a popular tourist attraction. They also have paragliding available. Nothing is better than flying through Nainital's cold breeze. You will truly get to be a part of its natural beauty. If you are an adventure lover, then this is an activity that will make your Nainital trip memorable.
Visit Naina Devi Temple in Nainital
Image Courtesy: Templepurohit.com
You can then drive back from Naukutchiatal to Nainital and go straight to Naina Devi Temple. The atmosphere will be calming during the evening. Thus, you will be able to pray with a calm mind. Even if you are not religious, the architecture of the temple is beautiful. Hence, you must surely visit to appreciate its beauty.
The next day, you can enjoy some other sightseeing places in Nainital.
DAY 3
Begin your day at Lovers Point
Image Courtesy: Nainitatourism.org
Lovers Point is another high-altitude point in Nainital. The views from Lovers Point are so scenic. That is what makes it a popular tourist attraction. Especially if you visit in the morning, it is not too crowded. Thus, go there straight after breakfast. You can truly enjoy Nainital's beauty during the break of dawn. It is also the perfect spot to take a lot of memorable pictures from your trip.
Enjoy nature at Eco Cave Garden, Pangot Bird Sanctuary, and Nainital Zoo
Image Courtesy: Jannat, Pinterest
Eco Cave Garden is a natural park in Nainital. It is maintained by Nainital Tourism. Hence, it is organized, clean, and well-managed. Visiting Eco Cave Garden can be a very enriching experience. It is also a very educational experience as you get to learn about different types of flora and fauna there. For lunch, you can enjoy a cozy picnic there as well. Thus, it can be a great bonding activity with your friends and family.
At Pangot Bird Sanctuary, you can learn a lot about different types of bird species. Thus, you do not just get to enjoy nature at its finest, but you also get to educate yourself. Especially if you are visiting with your kids, they will be fascinated by the different types of birds there. It is hence a great opportunity to raise them as curious beings.
Nainital's Zoo is a popular tourist destination since it is a high-altitude zoo. It is about 2000 meters above sea level. Hence, apart from the natural enrichment inside the zoo, you can also enjoy the scenic beauty around the zoo. It truly feels like you are a part of the animal's natural habitat since there is greenery all around.
Take an evening stroll through Tibetan Market
Image Courtesy: @Uttarakhand.life, Instagram
Tibetan Market, also known as Bhotia Market is another landmark area of Nainital. Most shops are run and owned by Tibetan immigrants. Thus, supporting them means supporting their livelihood. You can shop for a lot of handicraft souvenirs there. They also have some expensive handwoven shawls available. Hence, there are also a lot of options for people who want to splurge. Eating Tibetan Market's delicious street food for dinner is one of the best ways to end your Nainital trip.
Are you looking for accommodation for your stay in Nainital? Check out properties by Shivraj Group of Hotels. The destinations in this itinerary are easily accessible through their properties. Hence, you will be able to stay in prime locations, without tampering with your budget too much. You will be assured of comfort, safety, and good food. Book now!
Let's Suggest You Some Best Luxury & Comfy Hotel To Stay In Nainital
⭐⭐⭐⭐⭐
Peaks And Pines Resort & Hotel