The final week of the year is full of joy, excitement, and anticipation of what the New Year will bring. This is the time of the year when people can disconnect from mundane lives and dance to the mayhem or sing. For some, the New Year celebrations are about cuddling up with loved ones and drinking to live; for others, it's about unleashing the beast and throwing a crazy party.
Nainital is one of the most beautiful hill stations where the spirit of Naini Lake astonishes every traveler. A popular spot for a day-long boat trip, the lake lies in the middle of the town. Towering gorgeous mountains surround the entire town, which enhances its beauty.
The temperatures steadily decrease, and traveling with loved ones is an excellent way to make these holidays memorable. We understand your struggles in planning a complete weekend itinerary in Nainital for an exciting holiday season. As a result, we've put together a whole package for you to ring in the new year.
Read More: How To Reach Nainital?
Let's plan a 3-day itinerary in Nainital for you!
Day 1 | Take a Breath of Fresh Air as you Arrive in Uttarakhand
When you arrive in Nainital, check into your hotel and relax. To start with Nainital's sightseeing, visit the famous Naina Devi Temple, where Goddess Sati's eyes fell after her self-immolation.
Snow View Point
The second stop for the day is Snow View Point, located at 2,270 m, which provides spectacular views of snow-capped mountains and Nainital Lake, and the town. Snow Viewpoint is well-connected by road, but an aerial ropeway trip from Mallital is best to get there.
The Tibetan monastery Gadhan Kunkyop Ling Gompa of the Gelukpa order is a must-see, located near Snow Viewpoint. An early morning climb to this location also provides some of the best views of the Himalayan ranges. An amusement park opened here is a great draw for the kids.
Nainital Lake
Nainital Lake, a natural freshwater lake in the heart of Nainital, can be the next stop. P. Barron built this lake in 1839 at an altitude of 2,000 m. The lake has a moon shape, and the Nainital Boat Club offers boating and yachting services. You can see a stunning sunset while sailing on Naini Lake.
You can then take a stroll through the shopping lanes of Mall Road. Mall Road connects the north and southwest corners of Nainital Lake, known as Mallital and Tallital, and runs parallel to the lake. Several hotels, banks, showrooms, department stores, shops, restaurants, and cafes along the road. Visitors can take a leisurely nighttime stroll, with a cool, refreshing breeze sweeping across the lake onto the road, adding to the appeal.
Later you can return to your hotel for dinner and enjoy various indoor activities or bonfires organized by the resorts in Nainital.
Day 2 | Sightseeing in Nainital
Wake up to a stunning view of the valley and enjoy a delectable breakfast overlooking cascading mountains.
Eco Cave Garden
Next, you may explore Nainital, including a visit to the famous Eco Cave Garden, a cluster of six interconnecting caves. The caves are of varying sizes, narrowing further into the tunnels. It is the epitome of Nainital's wild woods and hills. Eco Cave Gardens also has a musical fountain, but it only functions during peak season.
Lover's Point
Later, you can visit Lover's Point and be enchanted by its beauty. It is one of Nainital's picturesque viewpoints and one of the must-see attractions in Nainital, frequented by couples. This spot is accessible after a short walk through the rocky road from the parking lot. Horses can be rented to reach higher viewpoints like Tiffin Top and Naina Peak, which are inaccessible by vehicle.
Contiguous to the cliff of Lovers Point lies the Suicide Point. People have committed suicide by jumping from this location, so it has a contentious name. The view from the suicide point is just as thrilling as the view from Lover's Point.
Tiffin Top
At an elevation of 2,290 m, Tiffin Top is the next station. It is known as Dorothy's Seat and is located on Nainital's Ayarpatta Hill. This is Nainital's second-highest peak. It is also one of the best places in Nainital for short trekking. Dorothy Kellet, an English painter who died in a plane disaster, inspired the name of this location.
Tiffin Top is a famous picnic location and a destination for budding painters and photographers looking to capture the panoramic splendor of the hills. It commands a spectacular view of the Himalayas and the surrounding landscape. In the early morning, the view from here is stunning, significantly as the sun rays fall and illuminate every nook of Nainital.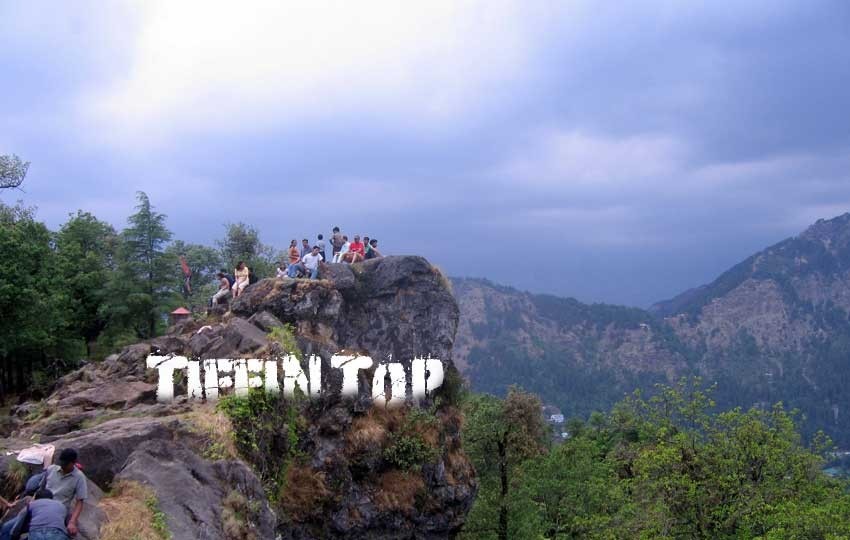 Tourists have to trek for roughly 4 km to reach this viewpoint. The approach to this lovely picnic site winds up a hill and provides a magnificent perspective of the Himalayas. To get to Tiffin Top, visitors can also take a horseback ride.
G.B. Pant High Altitude Zoo
Then you can visit the G.B. Pant High Altitude Zoo, which is located at an elevation of 2,100 m. It is one of the three High Altitude Zoo Parks in North India and one of the most popular Nainital tourist attractions. The Zoo was founded in 1984 and covered an area of 11 acres. The zoo is home to various endangered Himalayan species, including the snow leopard, Tibetan wolf, and Himalayan bear. It also boasts an extensive collection of high-altitude species such as the centerant, Lady Amherst pheasant.
You can visit the Hanumangarhi Temple in the evening and watch the sunset from the mountaintop. Inside the temple, there is an icon of Lord Hanuman. Shitala Devi Temple and the Ashram of Lila Sah Bapu are two more notable sites close to the temple.
After the sightseeing trip, return to the hotel, enjoy New Year with a lavish meal and beautiful decorations, and then call it a day.
Day 3 | Time to Head Back Home with a Plethora of Memories
Start your day with a delicious breakfast and check out from the hotel. A facility is available at most hotels that allow you to store your luggage and then head out to explore the beautiful city one last time.
Kainchi Dham
Visit Kainchi Dham, a religious pilgrimage 17 km from Nainital. Kainchi is a beautiful secluded shrine and the Hanuman Mandir makes it famous. The ashram lies at an altitude of 1400 m. Neem Karoli Baba built a platform in Kainchi village in 1962 where two spiritual gurus: Sadhu Premi Baba and Sombari Maharaj, performed Yagyas. The Hanuman temple was later built over the platform, thus establishing the Kainchi Ashram.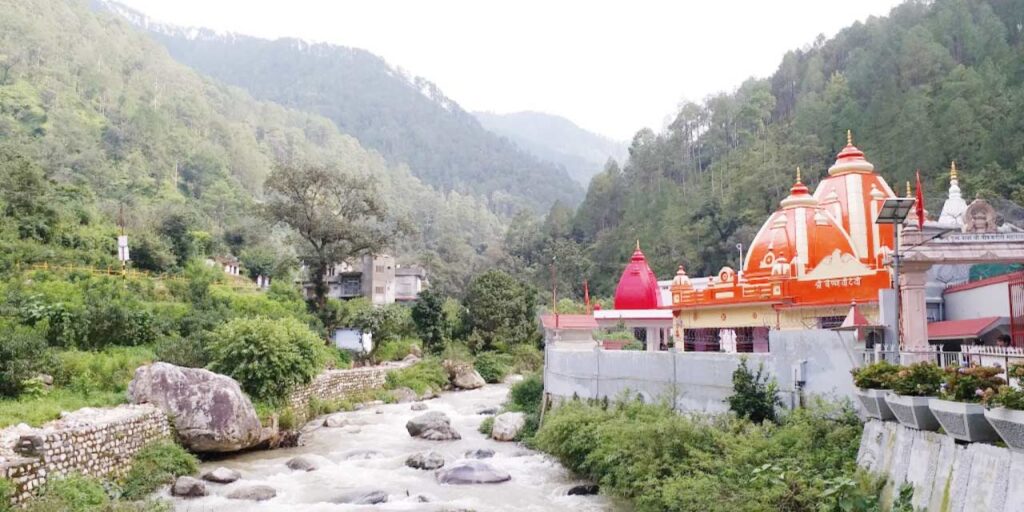 Bhimtal
Next, visit the Bhimtal, which is 22 km from Nainital and offers a gorgeous lake view with a peaceful environment and is ideal for boating. It is located at an altitude of 1,370 m and is older than Nainital because it was formerly part of the ancient silk route. Bhimtal, the largest lake in the Kumaon region, is surrounded by lush green mountains. The lake serves as a source of drinking water and supports aquaculture with various fish species.
An island lies at the lake's center, and you can reach it by boat. This island has an aquarium with several fish species from China, South Africa, and Mexico. An ancient Bhimeshwara Mahadev Temple stands on the lake's shores. The Karkotaka hill, well known for the Nag Temple, is approximately 2.5 km from the Bhimtal. Thousands of pilgrims visit it during the Rishi Panchami festival. Hidimba Parvat is 5 km from Bhimtal and it is named after Bhima's demon wife. Vankhandi Maharaj, an environmentalist, and monk, lives there and has created a wildlife sanctuary.
Sattal
Then, you can travel through lush oak and pine forests to reach Sattal, a place where seven interconnected freshwater lakes meet. It is one of the most scenic sites in Nainital, located 12 km from Bhimtal and at an elevation of 1,370 m. It is one of India's few unpolluted freshwater bodies. These bodies of water offer a haven for migratory birds. It is home to 500 permanent and migratory bird species, 20 animal species, and other invertebrates.
During their visit, tourists can enjoy boating, kayaking, bird watching, and fishing. Hills around Sattal are ideal for trekking, rappelling, mountain biking, and rock climbing. Sattal also has one of the best views of the Himalayas and its surroundings. The Butterfly Museum, built to raise awareness about butterflies, is another attraction in town.
Subhash Dhara
Subhash Dhara is a beautiful freshwater spring that emerges from Sattal's deep jungle. This natural spring enchants visitors with its crystal clear water.
After a fantastic stay at Sattal, you can return to the hotel to retrieve your belongings and then begin your journey home. You conclude the tour with beautiful memories.
Read More: Best Things To Do In Nainital For A Fantastic Holiday Experience
We want to give you the finest memories of the upcoming holiday season. Why wait? 
Download this brochure to get details of the complete package offered for the festive season by La Niwasa Resort.
This surely will be your perfect step to welcome this festive season with the most memorable hospitality address in Nainital.
Are you looking for accommodation for your stay in Nainital? Check out properties by Shivraj Group of Hotels. The destinations in this itinerary are easily accessible through their properties. Hence, you will be able to stay in prime locations, without tampering with your budget too much. You will be assured of comfort, safety, and good food. Book now!
Let's Suggest You Some Best Luxury & Comfy Hotel To Stay In Nainital
⭐⭐⭐⭐⭐
Peaks And Pines Resort & Hotel