Are you planning a trip to Nainital to take a break from your fast-paced life? If yes, then you can make the most out of your break by squeezing in a night of camping in the woods. It is no secret that Nainital is a lush green and hilly beauty. Camping brings you closer to that beautiful nature and helps forget the stress of your daily life. If this sounds like just what you need, read on to find out the 3 best campsites in Nainital for different budgets.
1) BUDGET CAMPING AT CAMP WILDLAND
Camp Wildland is the perfect place if you want to experience authentic camping without breaking the bank. It is located just about 13 km from Nainital Lake. Nestled beautifully in Nainital's green hills, the location is just perfect! You are not going to need your morning alarm here as the chirping of the birds will automatically wake you up.
They have affordable services. The price for a normal Dome tent is usually below 500 INR. This does not include any meals. A dome tent is also the most authentic camping experience. So if you are a hardcore adventure buff, then you must stay at Camp Wildland!
Apart from a clean and safe stay, they have other facilities too. Their biggest advantage is their community. You can mingle with many other people there. They have a sit-out area where you can meet everyone. If you enquire, you will also find out about the various adventure sports that take place around the camp.
Their customers often visit again, majorly because their host Junaid is so amazing. Everybody who has ever been there vouched for Junaid's hospitality. Go experience it yourself!
2) RELAX IN NATURE'S LAP AT NATURE DROPS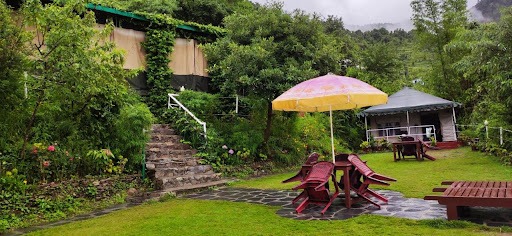 Nature Drops is a quaint camp in Bagar Magar Village in Nainital. You will not be able to take your eyes off the view. It has everything from moss-green mountains to misty fog. Instead of tents, they have cozy bamboo huts. They will keep you feeling warm and comfortable in Nainital's winters. You can also opt for a package that includes all the meals.
Apart from its cozy vibe, it has a lot of other facilities too. They have activities like table tennis and badminton. Their in-house restaurant and snack bar serve some amazing food. Also, they have packages for tours and treks. Equipped with cameras and security, it is a safe place that you can visit with your family and kids too. Their play area and kid's menu make the place even more family-friendly.
However, given the extra facilities you get, Nature Drops is priced higher than Camp Wildland. It is still affordable. You can enquire further to make sure that you get the best deal, according to the season you are visiting them in.
3) GLAMPING AT MOKSHAM HIMALAYAN CAMPSITE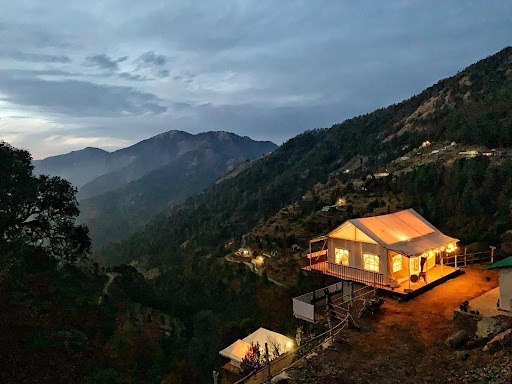 If you are looking for a luxurious camping trip, then you can end your search at Moksham Himalayan Campsite. They are equipped with everything from beautiful valley views to high-end facilities. It is located in Pangot, Nainital. Needless to say, the beautiful green valleys and fog-laden mountains will captivate you.
Cafe Moksham, their in-house cafe where they serve all the meals, is in itself one of the 'must-visit' places of Nainital. So, you can be assured that you will be served delicious food during your stay there. They have sturdy and luxurious tents for accommodation. They provide electric blankets to ensure a warm, comfortable sleep.
Since it is a glamping destination, its facilities justify its prices. They have some really good trekking and hiking packages available. There are a lot of beautiful treks around the camp's location that you can enjoy. Also, you can book an outdoor cooking session with them. They have a bonfire pit and also a sit-out area. You can experience camping while enjoying high-class facilities.
Read More: 9 Must-try Local Dishes In Nainital
After a night of experiencing life in the forest, enjoy a comfortable stay at one of Shivraj Group of Hotels. We can vouch for the fact that you will have an amazing time here. Book now!