Culturally immersing yourself in a place is certainly the best way to travel. Celebrating the festivals of a place gives you a lot of insight into their culture and life. You essentially get to take away a part of their culture with you. Sounds beautiful, right?
Nainital is not just a beautiful hill station but also buried in layers of rich culture. If visiting Nainital is on your bucket list, here are some festivals you should plan your trip around.
THE WINTER FAIR OF NAINITAL: SHARADOTSAV
Sharadostav marks the beginning of winters. In Nainital, the festival is celebrated as a fair. The fair is organized every October. Indeed, the Sharadotsav fair embodies the cultural heritage of Nainital. There are cultural dances, folk songs, and storytelling, there are kiosks to shop from local artisans. You will not just get an insight into the festival Sharadotsav, but through the fair, you will get to experience the culture of Nainital.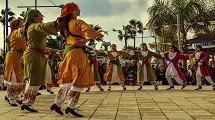 A DAY OF SWEETS AND DANCES: UTTARAYANI
Observed on 14th January every year, it is a festival you must experience in Nainital. Apart from the commonly known tradition of kite flying, Nainital has some rich and beautiful rituals for Uttarayani. It is a festival that children enjoy the most. As a fun activity, they sew sweets in a garland and wear them. You can also hear them sing their folk songs and religious hymns. It is overall a delightful sight. To top that off, there is also a fair in the evening that you can enjoy.
WELCOMING THE HARVEST SEASON: KHATARUA
Celebrated mid-September, Khatarua is a celebration of agriculture. It is very similar to Lohri. To welcome the onset of the harvest season, Khatarua is celebrated. The people of Nainital light bonfires and dance around them. You will see little children hoisting colorful flags in the air. The overall energy is wholesome and joyous. There is nothing more warming than leaving Nainital with those warm memories.
AN AFFAIR OF BLESSINGS AND FLOWERS: PHOOL DEI
Nainital has another beautiful and simple festival called Phool Dei. It is observed on the first day of Chaitra, according to the Hindu Calendar. The time is usually around mid-March. The main participants of the festival are young girls. They collect rice grains, coconut, jaggery, and flowers. The girls visit all the houses in their neighborhood and bless the houses with prosperity. Also, they sprinkle flowers and rice, jaggery, etc. on their doorsteps and sing cultural songs. Although, they do not go back home empty-handed. They are adorned with gifts and sweets in return.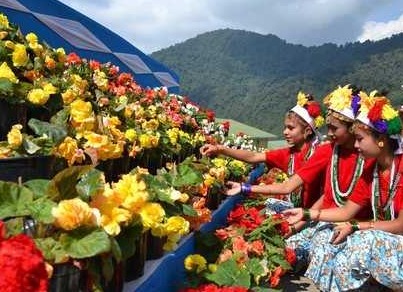 We at Shivraj Group of Hotels will be waiting to host you. Book your stay with us and have a delightful time here while you explore the culture of Nainital. 
Let's Suggest You Some Best Nainital Hotels To Stays ⭐⭐⭐⭐⭐